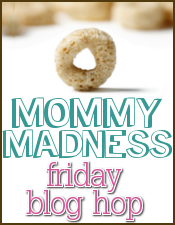 Growing up I didn't think that I was too picky of an eater. Looking back now I think maybe I was. I won't eat cooked tomatoes...but I LOVE LOVE LOVE fresh tomatoes with salt and pepper. I don't like onions in my food but I will eat onion rings if they are thin. I eat with my eyes...if it doesn't look appetizing...I will NOT try it. Same goes with smelling. Maybe I'm just weird...There are other things I won't eat but this isn't about me.
My kids...can be the easiest and hardest to please when it comes to food. One day they will like something then the next they won't.
Little Girl (2 1/2) is the easiest by far. She will practically eat anything you put in front of her. She isn't a big fan of meat but she has a hard time chewing and swallowing sometimes. Her absolute favorite is yogurt.
The boys are a different story though.
Boy #1(7): Won't eat corn off the cob...but will devour corn on the cob. Won't eat cubed potatoes but will eat mashed potatoes or a baked potato. He is also like me in the cooked tomatoes and onions things...really all the boys are. He also says he doesn't like chicken but we are trying to get over that. One of his favorites to eat is Chicken Spaghetti.
Boy #2 (6): He will put up a fight over new things saying he doesn't like it when he's never tried it. Majority of the things he does indeed like and asks for more and more. His favorite thing to eat is cheese enchiladas and his least favorite is cereal...
Boy # (5): He will eat anything. Usually not a big amount though. He wants to eat and be done so that he can do other things. If you put alot(to him) on his plate he will get upset...even when you tell him it's ok if he can't eat it all. He is usually the one that wants to help cook and is first to ask what are we eating.
Boys #1 and 2 will eat 2nds and 3rds of foods the like...well they will eat it until there is no more. The way they eat now I'm afraid to see them as teenagers. I try to feed a crowd now...I will be attempting to feed a small country when they are older.
Usually the more simple a dinner is the happier the kids are. They don't want alot of veggies so I try to sneak them in any way I can...but they are smart kids so I have to get smarter with this!! I should probably be trying to broaden their palette but I have a hard time eating new things as well...I'm not really setting the best example for them but if I won't eat it then I don't cook it...if I don't cook I don't force them to eat it either....
***************************************************
If you like what you read and would like to hear more from me please consider becoming a follower and also "Like" The Domesticated Housewife on Facebook!
Have a good night!
Ashley